The WiNRADiO WR-RCU-100-ATC Automatic Tracking Controller software option provides the following additional features:

Fully automated real-time satellite tracking


Fully automated task scheduler


Flexible task definition system
What makes the system exceptionally powerful is the ease with which this software automatically tracks orbiting satellites in real time. To enable automatic tracking, simply select the satellite(s) of interest from the presented list, add them to the scheduler, and the scheduler will then position the antenna automatically, to follow the selected satellites as they pass.
The integrated world map also shows the specified satellites orbiting the Earth in real time, and the times of the satellite overhead passes are calculated and displayed.
The user can also program tasks for the scheduler by specifying the action to be performed, its duration, start time and date. Fully unattended, automatic satellite tracking can therefore be planned a long time in advance.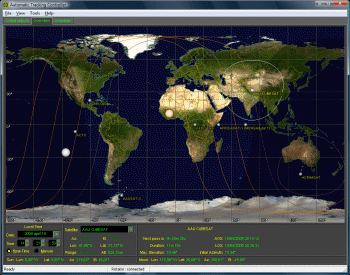 Screenshot of WR-RCU-100-ATC Automatic Tracking Option

The intuitive and user-friendly interface will plot the various satellite positions in real time, as well as show their transmission beam footprints superimposed on a world map.