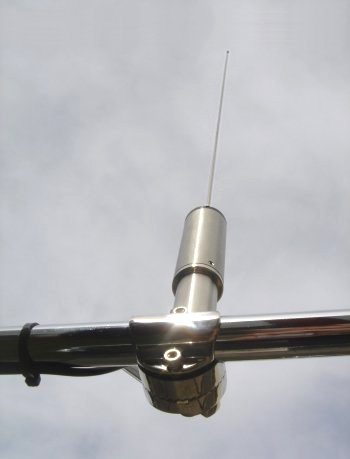 (Mounted using the optional WR-AC-RMB-114 base.)
The AX-81S antenna is a compact active HF antenna, ruggedized to suit harsh outdoor environments, and particularly suitable for marine environments. While it has been designed primarily as a marine antenna, it can be useful anywhere where good HF performance and reliability are required, and where space is at premium. The antenna is receive-only, and is suitable for professional as well as consumer applications.

The antenna covers the frequency range of 2 to 30 MHz, or 300 kHz to 50 MHz with somewhat reduced (but still excellent) performance.

While designed to be entirely general-purpose, the AX-81S antenna is especially suitable for the WiNRADiO G33EM marine receivers and G3 series of HF receivers.

The principal elements of the antenna are constructed of a low-carbon austenitic stainless steel that contains molybdenum. Austenitic (chromium and nickel content) stainless steels have high ductility (i.e. ability of a metal to plastically deform without breaking or fracturing), low yield stress and high ultimate tensile strength, when compared to a typical carbon steel. The 316L grade as used for the AX-81S antenna also offers an especially high degree of resistance to corrosion. The choice of materials and the durable construction of the AX-81S antenna will ensure trouble-free operation for many years.

The antenna was designed for rapid installation, with an easy-to-follow installation procedure supplied with the antenna.