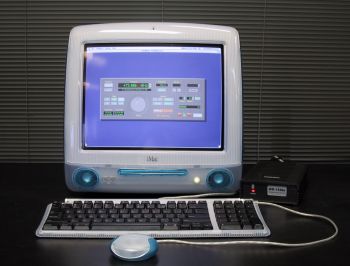 WiNRADiO provides Apple Macintosh support for our most popular receiver, the WR-1550e, a medium-range external receiver with frequency range 150 kHz to 1.5 GHz. (The US version excludes cellular frequencies 825-849 and 869-894 MHz.)

The standard WiNRADiO WR-1550e hardware is supported by native Mac software, which is able to run on current models with USB ports, and some older Mac models with serial ports.
Most Macintosh computers which use the PPC (Power PC) processor, i.e. the 'Power Mac' models produced beginning 1994, are supported. This includes iMac, eMAc, iBook, PowerBook and other desktop and portable models using the 'G' series processors from G3 onwards. Earlier Mac models, using the 68000 family of processors, are not supported.
For serial interface models, WiNRADiO provides a special serial cable to connect to the WR-1550e receiver.
For the USB interface models, a serial-to-USB adapter is required. WiNRADiO recommends the Keyspan adapters, such as the Keyspan USA-19 model. This is available from WiNRADiO.
For serial interface models, WiNRADiO provides a special serial cable to connect to the WR-1550e receiver.
Running under Mac OS X
The current Mac version of the WiNRADiO software is a Mac 'Classic Application', in the terminology used by Apple. This means that it is truly native only on 'pre Mac OS X' machines, i.e. those running an operating system such as Mac OS 9. Nevertheless, the WiNRADiO software will run perfectly well under Mac OS X, because Apple have built in this compatibility via a 'Classic Environment' OS which itself runs under Mac OS X.
In most cases, to run a Classic Application such as WiNRADiO under Mac OS X, it is sufficient to double-click the application icon, and the Mac will automatically launch the Classic Environment, typically Mac OS 9.2. Once 'Classic' is running, it will in turn launch the application, such as WiNRADiO.
It is even possible to set the Mac system parameters so that the Mac boots up in 'Classic' rather than in OS X. Such a setting would be useful if the Mac was used mainly for running WiNRADiO, or other Classic Applications, more often than OS X applications.
Some recent Mac models will boot up only in Mac OS X. However, they retain Classic compatibility, and can run Classic Applications when these are double-clicked, as described above. Furthermore, the extra time waiting for 'Classic' startup is required only the first time it is launched. In subsequent runs of a Classic Application, 'Classic' will start up instantly. 'Classic' is retained in memory, ready for instant use, until the Mac is shut down or rebooted.