Given their software-defined architecture, the receivers offer unparalleled flexibility, excellent dynamic range and high sensitivity. Many useful features complement the receivers, making them capable of filling not only the role of a monitoring receiver but also that of a measuring receiver, such as the calibrated S-meter showing the received signal levels in dBm, µV or S-units, down to the -140 dBm noise floor, several spectrum analyzers, and many other features.
User interface
The MS-8118/BRL software makes it possible for the user to control each individual receiver separately and observe its operational status, as well as set the system parameters for multichannel monitoring and surveillance operations.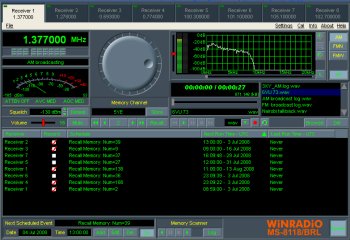 The receiver control software contains numerous advanced features, many tuning and scanning options, and virtually unlimited channel memories. The software interface uses the familiar Windows point-and-click environment, reducing the amount of training required for end-users.
Automated Operation
The MS-8118BRL system can be programmed for fully automated operation. Automated recording tasks can be initiated by time and calendar based schedules as well as signal level transitions. The system's response can be selected from a range of pre-defined options such as alerting the operator, start or stop recording, change receiver settings and many others.
Memory Scanning and Recording
Fast scanning of preset memory channels is another feature provided by the unique user interface of the MS-8108/BRL system. This allows the busy network/broadcast engineers to rapidly tune between channels under their control. Checking program content on competitive channels is as easy as clicking a preset button.
Recording may be performed either using the standard Windows WAV format, or with a special enhanced format which contains time and date stamping, frequency, signal strength and other information. This format is ideal for further processing using the optional transcription and audio processing software (WAARP).